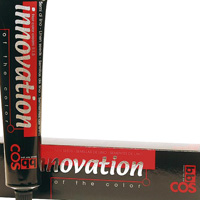 BBCOS
❤️


INNOVATION OF THE COLOR
Tinture per capelli
---
colorazione a basso contenuto di ammoniaca
Una colorazione a basso contenuto di ammoniaca con un ottimo potere coprente dei capelli bianchi. Presenta un colore uniforme che gode di un'ottima tenuta nel tempo. Grazie alla sua speciale formula ai semi di lino con base di pigmenti di alta
qualità' realizza colorazioni brillanti e naturali rispettando la salute del capello e garantendo una maggiore luminosità e durata del colore.
nuances: disponibile in 94 nuances.
modo d'impiego: miscelare un tubo di crema INNOVATION OF THE COLOR 100 ml con 150 ml di Oxigen BBcos' ottenendo così 250 ml di crema' quantità sufficiente per tingere una folta capigliatura. Esclusivo per acconciatori' miscelazione a 1:1'5.
confezione: tubo da 100 ml.
---
Rate this product:
31 click
Viewed 140394 times
+3903311706328
Download PDF
Products for hairdressers