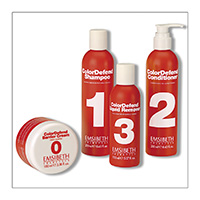 EMSIBETH
❤️


COLORDEFEND
Hair Color
---
COLORDEFEND is a line of products specifically to support the technical service color to defend and protect the life and brilliance of color, but also to defend and protect the skin during treatment.
It consists of 4 high-technology products, designed to increase and maintain the brilliance and intensity of color in respect of the total health of skin and hair.
COLORDEFEND BARRIER CREAM - protective barrier cream
Creates a protective film that protects the skin from contact with the color. Contains vitamin E and aloe vera extract that moisturize and soothe the skin.
package : jar 100 ml.
COLORDEFEND LIQUID REMOVER - epidermal liquid stain remover
Remove and gently without irritating any remaining color.
package : 150 ml bottle.
COLORDEFEND SHAMPOO - shampoo specifically for colored hair
Gently cleanses while preserving color brilliance. The hair remain soft and silky. The color remains bright and intense, thanks and meadowfoam oil to wheat proteins contained.
package : bottles of 250 and 1000 ml.
COLORDEFEND CONDITIONER - conditioner for colored hair
Conditioning treatment for colored hair. Protects the color stability by conditioning the hair thoroughly. The conditioning polymers and protein content of wheat donate combing and shine.
package : bottles of 250 and 1000 ml.
---
Rate this product:
33 click
Viewed 150869 times
+3903311706328
Download PDF
Products for hairdressers