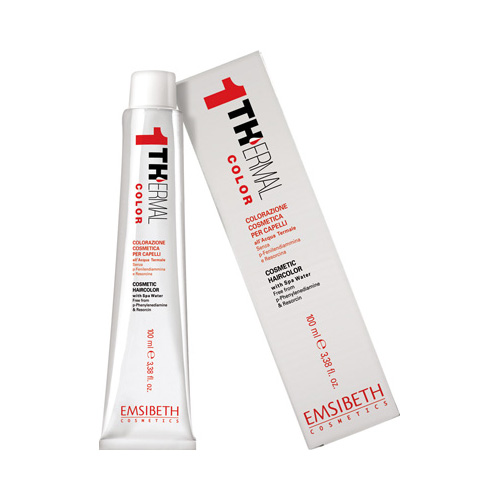 EMSIBETH
❤️


THERMAL COLOR
Hair Color
---
color cream - gel-based Thermal Water
Thanks all Thermal Water, THERMAL COLOR synonym for brilliance, Extremely bright, hydration and duration of
color over time respecting the equilibrium capillary. Hair remains hydrated, regenerated and disentangle.
Particularly suitable for those with sensitive skin, completely free of p - phenylenediamine and resorcinol, THERMAL COLOR contains new micro color pigments to 98 % pure, pi delicate, but extremely opaque that ensure vibrant colors and ultra - bright with great resistance to washing without tack in time.
Low in Ammonia (less than the 1 %) plays a pi action ; delicate opening of the scales.
The cream-gel texture adheres to the hair, covers perfectly white hair, lightens up to 4 shades, ensuring perfect colors and playful from roots to ends.
THERMAL COLOR index of professionalism, reliability and compatibility to guarantee a certain result.
Shades available in 51 shades divided in the natural, NATURAL ASH, GOLDEN, GOLDEN COPPER, COPPER, MAHOGANY, PURPLE, INTENSE RED, WOODS, BLONDE THE SAHARA AND SUPER LIGHTENERS.
way d use: in a non-metallic bowl mix 50 ml THERMAL COLOR with 75 ml of Thermal Activator
based on the ratio 1 : 1, 5. For the Superlight Series : mix 50 ml + 100 ml of COLOR THERMAL Thermal Activator according to the ratio 1 : 2. Apply to dry, unwashed hair.
Package : 100 ml tube.
---
Rate this product:
31 click
Viewed 169168 times
+3903311706328
Download PDF
INFO for WHOLESALERS